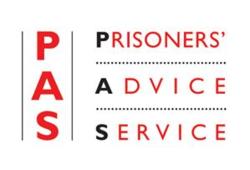 This advice is for prisoners – or their partners, families and friends – where a prisoner is experiencing problems or unfair treatment.The Peter Tatchell Foundation (PTF) is unable to take on individual cases. We are a very small organisation, with very limited staffing and resources. But we can direct you to the appropriate organisations to get the advice and support you need.

Prisoners' Advice Service
The Prisoners' Advice Service (PAS) provides information and representation to prisoners. Their website is here: http://www.prisonersadvice.org.uk/
PAS provides legal advice and information to prisoners in England and Wales regarding their rights, the application of prison rules and conditions of imprisonment.PAS takes up prisoners' complaints about mistreatment inside prison by providing free advice and assistance on an individual and confidential basis, taking legal action where appropriate.PAS runs the Prisoners' Legal Rights group, which produces a quarterly bulletin entitled 'Prisoners' Rights'.
Membership of the group includes prisoners, solicitors, barristers, academics and non-governmental organisations.If you have a complaint about your treatment, you can contact PAS for advice.They will advise you how to make a complaint yourself or they will take up your complaint on your behalf.PAS can provide you with details of solicitors who deal with prison law and complaints and who you can contact for further assistance.
You can telephone PAS on 020 7253 3323 or  between 10.00am and 12.30pm and 2pm and 4.30pm on Monday, Wednesday and Friday. They operate an answer phone service at all other times, so you can leave a message. You can email them on [email protected]
Finally, you can write to them at:
Prisoners' Advice Service,
PO BOX 46199,
London
EC1M 4XA

Prison Reform Trust
The Prison Reform Trust (PRT) is working to create a just, humane and effective penal system. Their main objectives are to reduce unnecessary imprisonment, promote community solutions to crime, improve treatment and conditions for prisoners and their families, and to promote equality and human rights in the justice system. Their website is here:
http://www.prisonreformtrust.org.uk/
You can also contact the advice team during office hours, Monday to Friday, on 020 7251 5070 but you will be charged. This is not be a free call.Finally, you can email the Prison Reform Trust on [email protected]
If you are a prisoner and you are experiencing difficulties, you should contact the advice and information of the Prison Reform Trust directly on 0808 802 0060 (this is a free phone line). Lines are open weekdays 9.00am – 8.00pm and weekends 10.00am – 3.00pm.
Advisors provide information and advice on prison rules and rights but they do not cover legal matters or counselling.
National Prisoner's Families Helpline
If you wish to get advice for yourself – or on behalf of a family member or a friend who is in prison – you can call the Prisoners' family helpline  on 0808 808 2003. Lines are open on weekdays from 9am to 8pm and on weekends from 10am to 3pm.
Bent Bars Project
Bent Bars supports LGBT prisoners by befriending them, sharing resources, providing mutual support and drawing public attention to the issues faced by LGBT people behind bars.The Bent Bars project does the following things:
Links LGBT people across prison walls by matching LGBT people inside prison with LGBT people outside prison as pen pal friends
Produces a newsletter written for and by LGBT prisoners
Hosts letter writing meetings and other events for pen pals
Collects, produces and distributes resources for LGBT prisoners on a range of issues, including safer sex, safer drug use, HIV and Hep C prevention, homophobia, transphobia and coming out in prison.
Their website is here:
http://www.bentbarsproject.org/home 
You can contact the project by email:
[email protected]
Or write: Bent Bars Project
P O Box 66754
London
WC1A 9BF

Law firms
Below are details of law firms that might be of assistance. They specialise in legal help regarding victimisation, parole, appeals against denial of recategorisation and so on:
You can contact Simon Creighton at Bhatt Murphy Solicitors – 020 7729 1115
http://www.bhattmurphy.co.uk/
Or you can reach out to Tuckers solicitors.  Their website is: http://www.tuckerssolicitors.com/
Tuckers solicitors, London 020 7388 8333
Tuckers solicitors, Birmingham 0121 236 4324
Tuckers solicitors, Manchester 0161 233 4321
Their 24 hour line is 0845 200 3367
Other options
Another option is to seek the advice and support of your local Citizen's Advice Bureau or Neighbourhood Law Centre.

Contact your MP 
Finally, you should also contact your local MP  who should be able to take up your case. If you can find out the name of your local MP  and email them direct from this website: http://www.writetothem.com/
You can also phone your MP's office at the House of Commons via the main switchboard: 0207 219 3000. Ask for the MP's secretary or researcher.If you are a partner, family member or a friend of a prisoner, you can visit their local MP at their weekly advice surgery. The location, dates and times can be obtained from the local town hall or library – or from the website of their local MP. This direct personal contact with a prisoner's MP is recommended.