Delegation presents women's equality demands to IOC
London – 25 July 2012
Sixty women's delegates from Europe, the Middle East, North Africa and South Asia rallied in London today to demand: "London 2012: Justice for Women – End gender discrimination at the Olympics."
The protest was coordinated by the European Women's Lobby, which is linked to a network of more than 1,500 women's organisations across Europe: http://goo.gl/J9Y62
"In advance of the Olympics, our intention is to remind the IOC of its obligation to apply the principles of equality and neutrality inscribed in the Olympic Charter," said London 2012: Justice for Women.
See photos of today's London protest below. They are free to use, without charge.
The delegation presented letters to IOC delegates at the Hilton Hotel, Park Lane, where the IOC is headquartered. The letters outline the seven equality demands made by the London 2012: Justice for Women movement.
London 2012: Justice for Women 7 Demands:
Three demands against gender discrimination:
1. Parity: Equal numbers of male and female Olympic disciplines and events
2. Decision-making bodies: apply immediately a minimum quota of 20% women's representation and set parity objectives
3. Homage and visibility: the IOC President should give the gold medal to both the male and the female marathon winners, and not only to the male winner
Three demands against sexual segregation:
4. No more male-only delegations
5. Competitors and officials must not be allowed to wear politico-religious symbols
6. IOC should no longer support gender the segregated games for women organized by Tehran
One demand to build a better world of equality and inclusion:
7. No more stereotypes (sexism, homophobia, transphobia), separation of Olympics / Paralympics, and end prostitution around the Olympics
London 2012: Justice for Women is supported by the human rights organisation, the Peter Tatchell Foundation. It's Director, Peter Tatchell said:
"The Olympic Charter outlaws discrimination in sport but these provisions are being violated with impunity. The IOC does not enforce the Olympic Charter.
"Discrimination at London 2012 is being condoned at the highest levels of the IOC.
"There are more events for men than for women. This means that men have the opportunity to win more Olympic medals than their female counterparts.
"Gender discrimination exists in athletics, canoeing, rowing, wrestling, shooting, and boxing.
"Some of the additional events for men are based on the sexist assumption that women are the weaker sex. These male-only events include the 50 km walk and the decathlon.
"The IOC president will present the gold medal to the winner of the men's marathon but not to the winner of the women's marathon, which symbolises to the world that the men's marathon is deemed more prestigious than the women's marathon. This is an insult to women everywhere.
"The IOC tolerates gender discrimination by competing nations and their National Olympic Committees (NOCs) by not requiring them to comply with the equality provisions of the Olympic Charter.
"Saudi Arabia's government blocks women from participating in sport. Many private women's gyms have been closed down and girls are banned from taking part in sport at school.
"Saudi Arabia's Olympic committee has ruled that women athletes must shroud their bodies head to toe and be accompanied by male guardians at all times.
"It has selected only two token women athletes to compete in the London Olympics. Neither woman actually lives in Saudi Arabia. One was born and raised in the US and has enjoyed sporting opportunities denied to Saudi resident women. No woman who lives in Saudi Arabia is being allowed to compete in the Olympics.
"Iran has gender segregation in sport and forces women athletes to cover their entire bodies, even if they do not want to.
"Women athletes from Iran are forbidden to have male coaches or to participate in sports that involve physical contact with male sports officials.
"In more than 150 countries, lesbian athletes have to hide their sexuality to get selected for their country's Olympic squad; otherwise they risk not only non-selection but also employment discrimination, police harassment and possibly imprisonment. The same discrimination applies to transgender and inter-sex athletes.
"In the absence of laws against homophobic and transphobic discrimination, victimisation and bias against lesbian and transgender athletes is endemic in most competing nations.
"This gender marginalisation, discrimination and exclusion means that in many countries women have few opportunities to represent their country at London 2012, regardless of how talented they are.
"The IOC's failure to demand that participating nations comply with the Olympic Charter has resulted in an Olympics that is not a level playing field and is far from equal," said Mr Tatchell
London 2012: Justice for Women – Background information:
http://www.playthegame.org/fileadmin/image/PTG2011/Presentation/Gender_in_Sport_-_Annie_Sugier.pdf
Further information:
Annie Sugier & Linda Weil-Curiel
The Ligue du Droit International des Femmes,The French Coordination for the European Women's Lobby. Tel: +33 (0)6 38 39 42 92 or +33(0)1 46 60 91 36 +33(0)6 888 44 009
Email: [email protected] and [email protected]
Website: http://www.ldif.asso.fr
Martha Jean Baker
Women's International League for Peace and Freedom, European Women's Lobby
Email: [email protected]
Peter Tatchell, Director, Peter Tatchell Foundation
Email: [email protected]
Web: www.PeterTatchellFoundation.org
PROGRAM OF THE 25 JULY EVENT ON BOARD THE HISPANIOLIA
London 2012: Justice for Women
Chair: Anne-Marie Lizin, Honorary President of the Belgian Senate
10:15
Welcome coffee
10:30
Short presentation about the organisations supporting "London 2012: Justice for Women" and guest of honour, Waris Dirie
10:40
Annie Sugier, speaker for the International League for Women's Rights and Françoise Morvan, Vice President of the French Coordination for the European Women's Lobby, representing 80 NGOs.
Who we are, where it all began: the Barcelona Games 1992 and the foundation of the Atlanta+ Committee.
The Olympic Charter, the sole law for the Olympics.
Our seven demands
Short video: when women reject the veil.
IOC's betrayal of equality principles
Questions/Answers
11:50
Why we support "London 2012: Justice for women" (3 minutes each):
Martha Jean Baker, Lawyer, Vice-President of European Women Lobby,
Peter Tatchell, Director of the Peter Tatchell foundation,
Anne Liardet, sailor (Vendée Globe Challenge),
Nina Charlier responsible for the syndicate of sports (teachers in France) ,
Audrey Keyser co-author of "Feminine football, are women the future of football?"
Ana Pak journalist, Iranian political exile
Shoukria Haidar, President of an Afghan NGO, former member of the Afghan NOC (written message from Kabul),
Sundas Hoorain, from One Law for All
Questions/Answers
12:20
Sonia Lokar, Chair of the European Women's Lobby representing NGOs will conclude the session.
12h15 break for sandwiches, refreshments and music
2pm
Festive mock burial of the Olympic values and principles that have been trampled on by IOC, with New Orleans jazz band.
3pm
A delegation will take letters with the seven demands for women's equality to the Hilton Hotel, Park Lane, where the IOC is headquartered.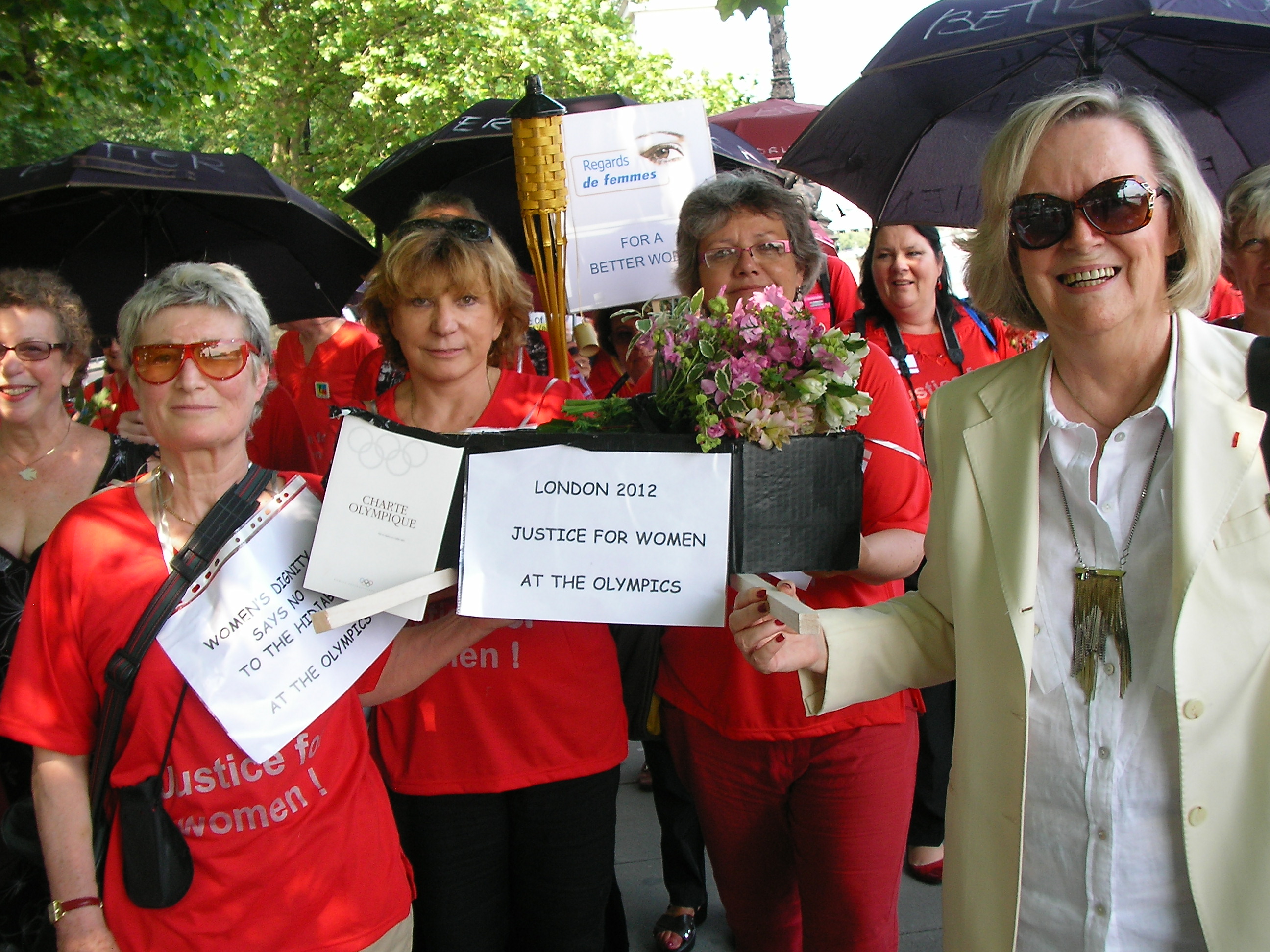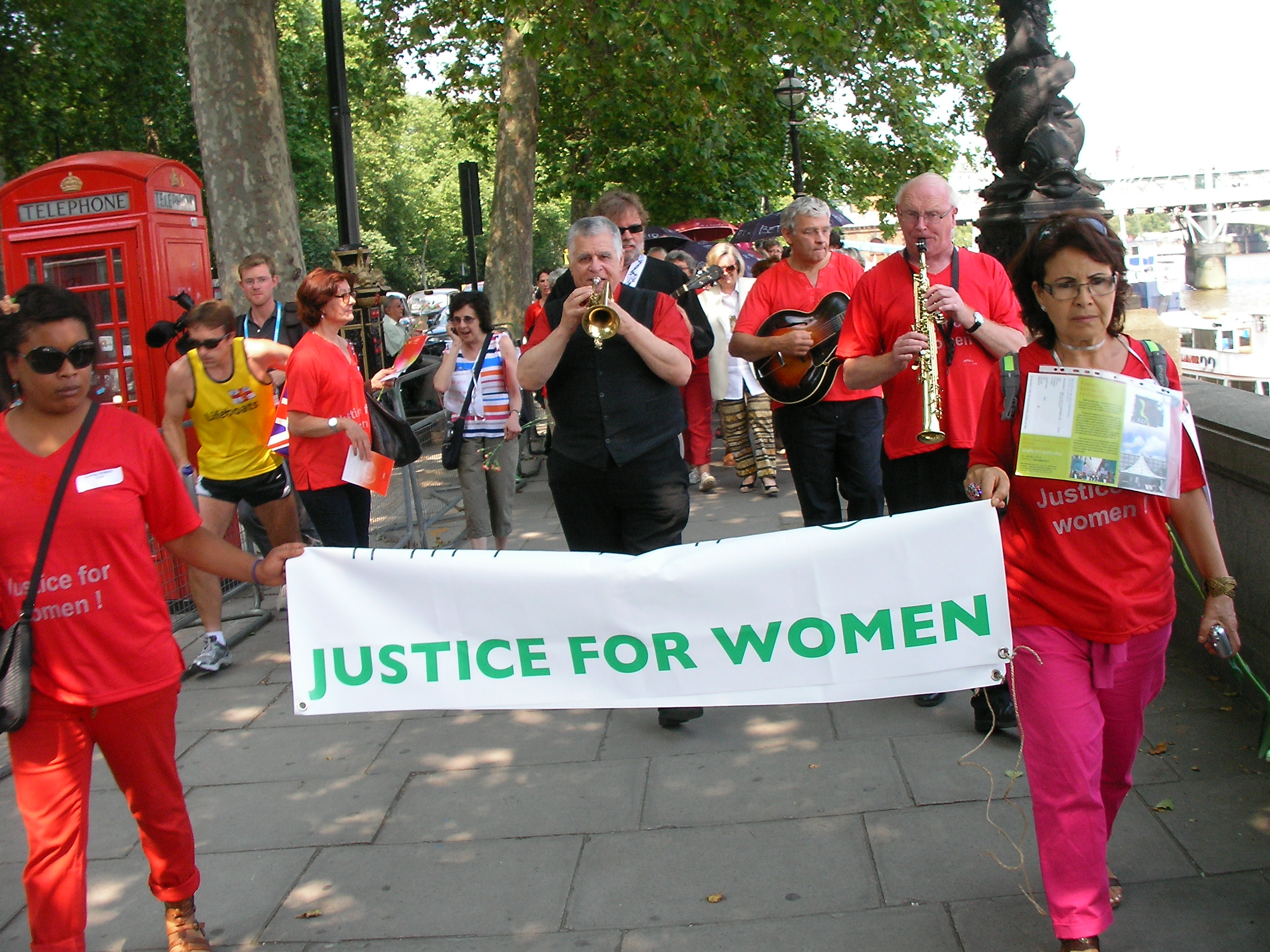 ENDS